Industry-university-research creates a new army of industrial equipment
---
As a demonstrative, leading and representative innovative enterprise in the deep integration of industry, university and research, Dalian Oriental Yipeng Equipment Manufacturing Co., Ltd. was included in the book "Innovation Mission Undertaking: China's Top 100 Demonstration Enterprises in Industry-University-Research Cooperation", edited by Wang Jianhua, Secretary of the Party Committee of the China Association for the Promotion of Industry-University-Research Cooperation, and published by Beijing Enterprise Management Press.
The article comprehensively describes that under the tide of industry-university-research, Dongfang Yipeng continues to deepen and improve the industry-university-research linkage mechanism; Extensive cooperation with national famous universities and scientific research institutes has been carried out to build a bridge between industry, learning and research for the development of enterprises and promote the process of their own transformation and development.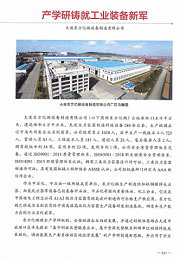 Xing Pengwan, chairman of the board, was quoted as saying: "In the process of future development, enterprises should look ahead, consider the future, and go to the country and the world. Looking across the country, there are thousands of equipment manufacturing enterprises in the same field with us. In the current complex market competition environment, our minds must remain calm. If enterprises want to develop steadily, there is no fixed product, no high-tech equipment, and no strategic technical cooperation projects such as production, research and research, they cannot Long-term and sustainable development. Therefore, Dongfang Yipeng should unswervingly take the path of innovation and transformation, which is the combination of production, learning and research, to ensure that the company can achieve the goal of rebuilding an Dongfang Yipeng as soon as possible. "
There is no end to innovation, and the cooperation between industry, university and research of Oriental Yipeng still needs to continue to climb and surpass. Yipeng Company will adhere to the problem-oriented, demand-oriented and goal-oriented, based on the actual situation of the enterprise, implement the new development concept of the national industry-university-research institute, and strive to work with more scientific research institutions to build an efficient, collaborative and innovative platform for entrepreneurs, scientists, and educators with smooth integration, so as to help China's industry-university-research in-depth integration and development.